2022 Nissan Frontier vs 2022 Maverick

View Inventory
This is an exciting time for fans of midsize and smaller pickups because there are a number of next generations and new nameplates on the horizon. One of those is the long-awaited 2022 Nissan Frontier. The third-generation Frontier arrives at Nissan of San Juan Capistrano with an aggressive exterior demeanor, a restyled cabin and even more improvements for a new powertrain that it had introduced a model year earlier. Another exciting option is the 2022 Maverick from Ford, which will soon be available at Ford dealerships serving San Juan Capistrano Irvine Orange. With this in mind, let's compare the 2022 Nissan Frontier vs 2022 Maverick and see how they measure up despite the obvious differences.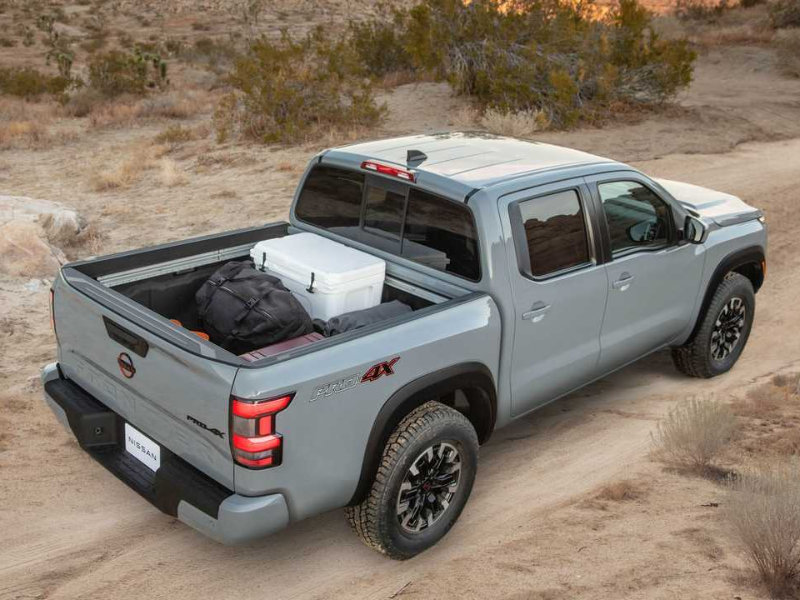 Exterior - Nissan Dealer serving San Juan Capistrano CA
The outgoing Frontier model had a 205.5-inch overall length, and that was true whether you opted for the King Cab or the Crew Cab due to the differences in bed length. The design for the 2022 Nissan Frontier extends that length by nearly 5 inches. So, whereas the previous model measured about 17 feet, the new model measures approximately 17.5 feet. These specs are quite similar to the Ranger, but Ford feels there is a niche for a pickup even smaller than that. The 2022 Maverick has just a 199.7-inch overall length, which makes it a tad longer than 16.5 feet. That length only allows for a bed that measures about 4.5 feet, which is half a foot shorter than the smallest box available for the Nissan Frontier. It also worth noting that Nissan gives you more options with the Frontier. Ford offers just one cab and bed combination. Nissan gives you the option of a King Cab with the standard box, a Crew Cab with the short box and an extended-wheelbase Crew Cab with the standard box.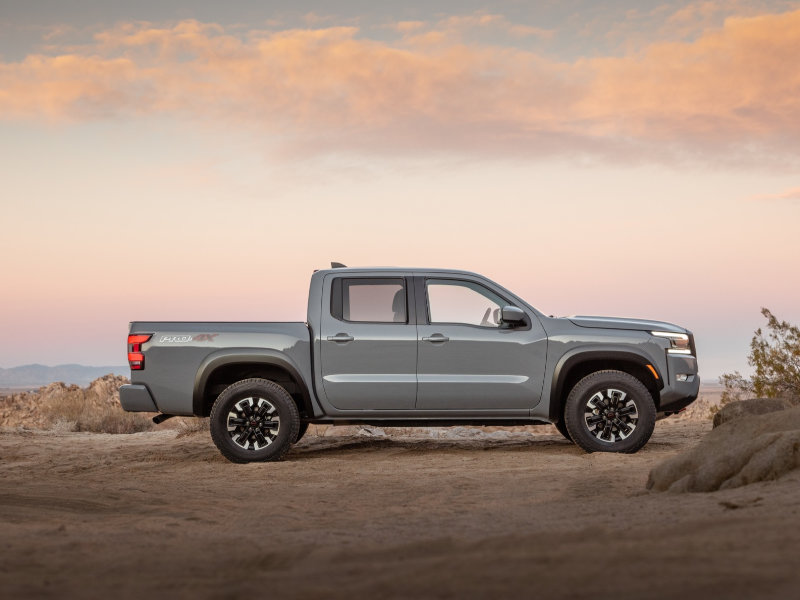 This is the most challenging aspect of a 2022 Nissan Frontier vs 2022 Maverick comparison, and the reason for that is that Nissan has not yet released the final interior specifications. We do have the specs for the Maverick, and what we know is that if you compare it to the previous-gen Frontier, then those specs look rather impressive. But we know that the new Frontier is larger than last year, so stay tuned… We have seen the Frontier, however, and think its design may be unparalleled among compact and midsize pickup trucks. Nissan borrowed elements from the successful Titan, including the steering wheel. It also added Zero Gravity seating and a redesigned center console that is easier to view.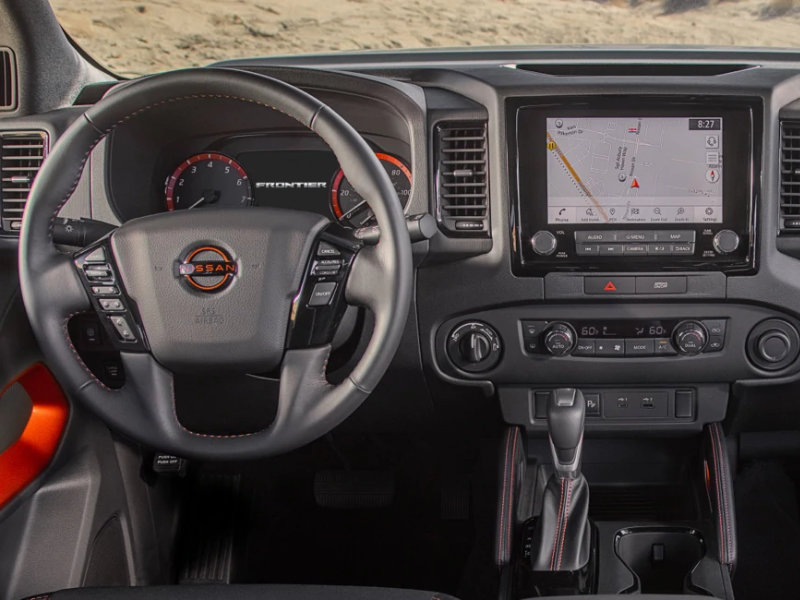 Nissan Frontier Mechanical specs
There really is not much competition between the 2022 Nissan Frontier and 2022 Maverick when it comes to the powertrains. The Frontier has a sophisticated nine-speed automatic and a 3.8-liter V6 engine that makes more than 300 horsepower and almost 300 pound-feet of torque. That is rather impressive for a midsize pickup, and you have the choice of either four-wheel or rear-wheel drive. With proper equipment, you can tow almost 7,000 pounds, and that is impressive as well. The base Maverick available at Ford dealerships serving San Juan Capistrano Irvine Orange has a hybrid powertrain with an electronic continuously variable transmission, and its output is far below the frontier. You do have the option of a 2.0-liter EcoBoost engine, but even with that upgrade, performance is limited to 250 hp, less than 280 lb.-ft. and an upper towing capacity of 4,000 pounds.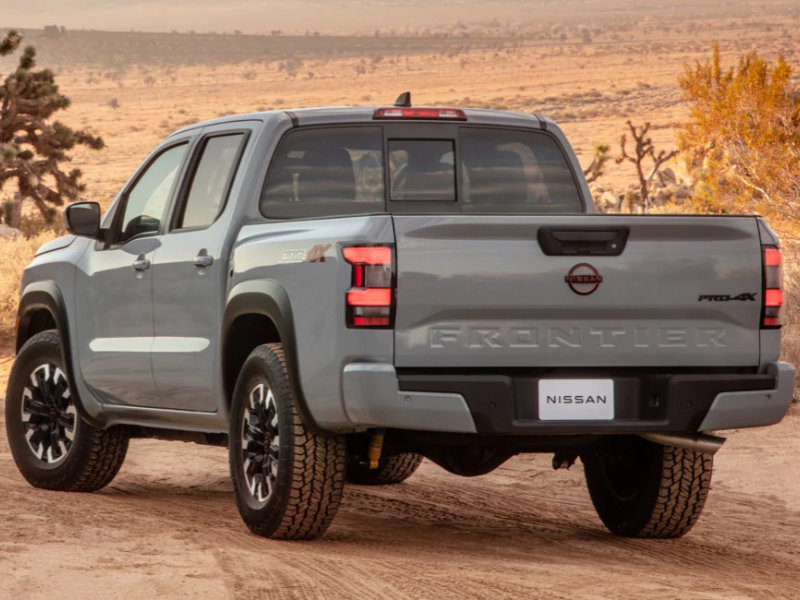 Tech - Nissan Dealership in San Juan Capistrano CA
Both of these are modern vehicles, and you can expect a lot of similarities in the tech that is standard and optional. Both come with an 8-inch touchscreen, a rear-vision camera system, Apple and Android device integration and so forth. Options include in-vehicle Wi-Fi and wireless charging. Both include forward collision warning standard and offer a package that adds more features, including automatic active braking, blind-spot monitoring and traffic-adaptive cruise control. One notable difference is that Nissan provides you its full infotainment software package with the base model. Ford requires you to opt for an enhanced 8-inch touchscreen that supports the full range of features.
Nissan of San Juan Capistrano wants to help you find the perfect Frontier or other Nissan model for you, and our local team serving San Juan Capistrano Irvine Orange is ready to do just that. Our current specials are some of our best ever, and we have numerous options available when it comes to financing and leases. Call us, contact us via email or text or reach us through our website via live chat.